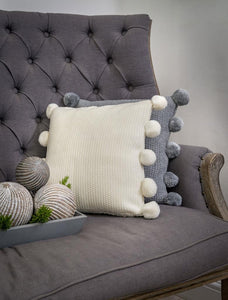 Ivory
Moss Knit cushion with 5 pompoms on 2 sides. Measures 40x40cm. Presented with a feather pad. 100% acrylic. Soft Knitted Cushion is intended as a decorative piece for gentle use.
Delicate and a little prone to shedding, it may show some signs of being loved over time.
"
Knitted using a very delicate fibre therefore try to avoid heavier use. To maintain, don't pull it and don't hang.
Fly-always and pilling is normal. To reduce this process and keep it looking the best, be gentle with your throw.
The pom poms may get slightly pressed during transit. These can easily be fluffed back by hand to the shape.
Dry clean suggested in order to save lightness and tenderness of your cushion.