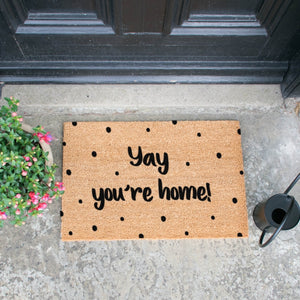 Artsy doormat love! 


Our mats are suitable for indoors and well sheltered outdoor use e.g sheltered porch. 
spotty design with yay you're home text in Black ❤️
Typical U.K. weather can be very pretty but also messy, our natural coir matting traps dirt and keeps your floors clean whilst being fun and quirky. Our 'Come in & cosy up' doormat is the perfect front door accessory this season, match with real or faux pumpkins and let the doormat do the rest!
We're not just your average doormat. Our doormat is produced from the best quality & well coloured doormat base and we use quality paints produced in the UK especially for our door mat material to be used indoor and have good water resistance for outdoor use. Our doormats are then hand sprayed in the UK and shipped freshly to your door.
*Please note all our mats are made from natural coir. Please brush or hoover any loose fibres as most of our doormats shed within the first week. We promise this is only for the first few days.
Each of our doormats we send to you are:
Made with a non-slip PVC backing.

Natural coir (coconut fibre).

Suitable for indoor & outdoor sheltered use.

Hand finished in the UK.

60cm X 40cm X 1.5cm depth.